BUY NOW
Acacia Hills, Gesha
Creamy peach, makrut lime & fragrant jasmine.
Close to the birthplace of Gesha, our fruitful relationship with Acacia Hills continues to bear delicious fruit. The dramatic landscape on the slopes of the Ngorongoro Crater and the surrounding microclimate has resulted in a unique expression of the Gesha varietal. Tanzania is renowned for its vast wilderness, famous landscapes and stunning coffees boasting elegant acidity. Coupling the natural terroir Tanzania offers with a mature Gesha varietal yields a unique and unmistakable flavour profile of pure elegance. Rigorous hard work, diligence and the leadership of Leon & Aideen Christianakis have resulted in this beautiful multi-dimensional coffee. Expect a light fruity exchange you've come to expect from other Acacia Hills varieties and experience the perfect medley of creamy peach, makrut lime and fragrant jasmine.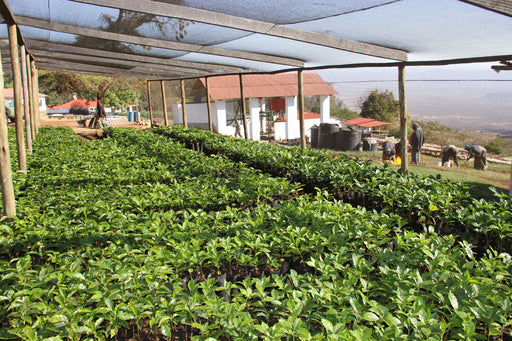 Deep Dive: Acacia Hills
This coffee estate in Tanzania is a partnership of growers and roasters. Owned by Mark Stell (Portland Roasting Company) and Leon & Aideen Christianakis (local Tanzanian coffee farmers), this relationship is a powerful combo that works to elevate coffee in the entire Ngorongoro region through a yearly cupping event.
LEARN MORE