This coffee estate in Tanzania is a partnership of growers and roasters. Owned by Mark Stell (Portland Roasting Company) and Leon and Aideen Christianakis (local Tanzanian coffee farmers), this relationship is a powerful combo that works to elevate coffee in the entire Ngorongoro region through a yearly cupping event.
Watch owners Mark Stell, Aideen & Leon Christianakis chat about all things Acacia Hills, from recent harvest conditions to their elephant problem:
From the inception of Acacia Hills, the goal was to not only improve their own coffee, but to elevate the coffee of the entire region. With Mark having first hand experience as a coffee buyer, he understood the appeal of being able source and explore a region at a single, central cupping. From this, the Ngorongoro Coffee Group was born and in 2012 their inaugural 'Cupping at the Crater' event was held – which we were lucky enough to attend!
What started off as just Acacia Hills Estate and their neighbouring farm, Shangri-La Estate, has grown to a group over 6 estates in the Ngoronrogo region. Receiving cupping feedback from a variety of people, exploring what other estates are producing, and the sharing of growing and processing knowledge among farms has helped improve the coffee quality of all involved.
After assessing the local area around the farm, 3 small villages – roughly 2,000 people, the Acacia Hills team found that 25% of their workforce were always sick from waterborne illness or suffering dehydration, and the average house was walking 6 hours a day for water. With these shocking stats in mind, the Tanzania Water Project was started and fundraising began with Five Senses, as well as many other coffee roasters around the world, jumping on board.
With a water source on the Acacia Hills farm that had not been developed in the last 70 years, an ambitious piping and storage project began. Bringing water down to the village and setting up storage tanks has considerably improved the access to water in the local area. This project is an excellent example of both wanting to be a positive impact in the local area and an improvement for the business – healthy workers are needed on the farm. Win, win!
Coffee from this relationship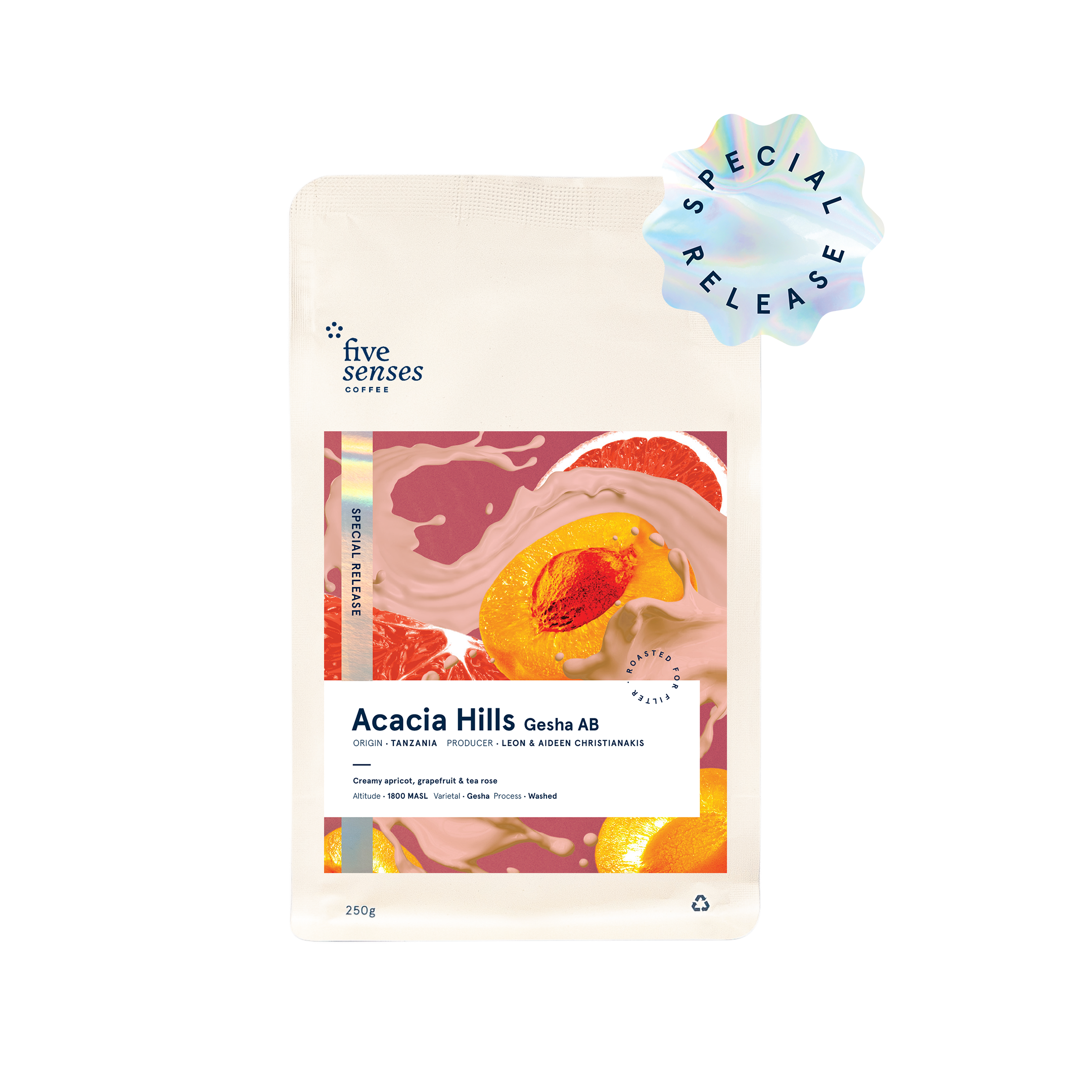 Grown in some of Africa's most famous landscapes, this Gesha varietal does the farm's rich 50-year history justice. Perched on the slopes of the Ngorongoro Crater, both the farm and coffee of Acacia Hills stand beautiful and compelling. Nestled within our long-standing relationship with Acacia Hills Estate, Leon & Aideen have spent close to a decade perfecting their signature Gesha varietal. Each year, as these trees continue to mature, so do the flavours that present. Grown at the highest point on the farm, this year's Gesha crop offers some classic floral aromatics, developing into creamy apricot and grapefruit flavours, lingering into a delicate tea rose finish.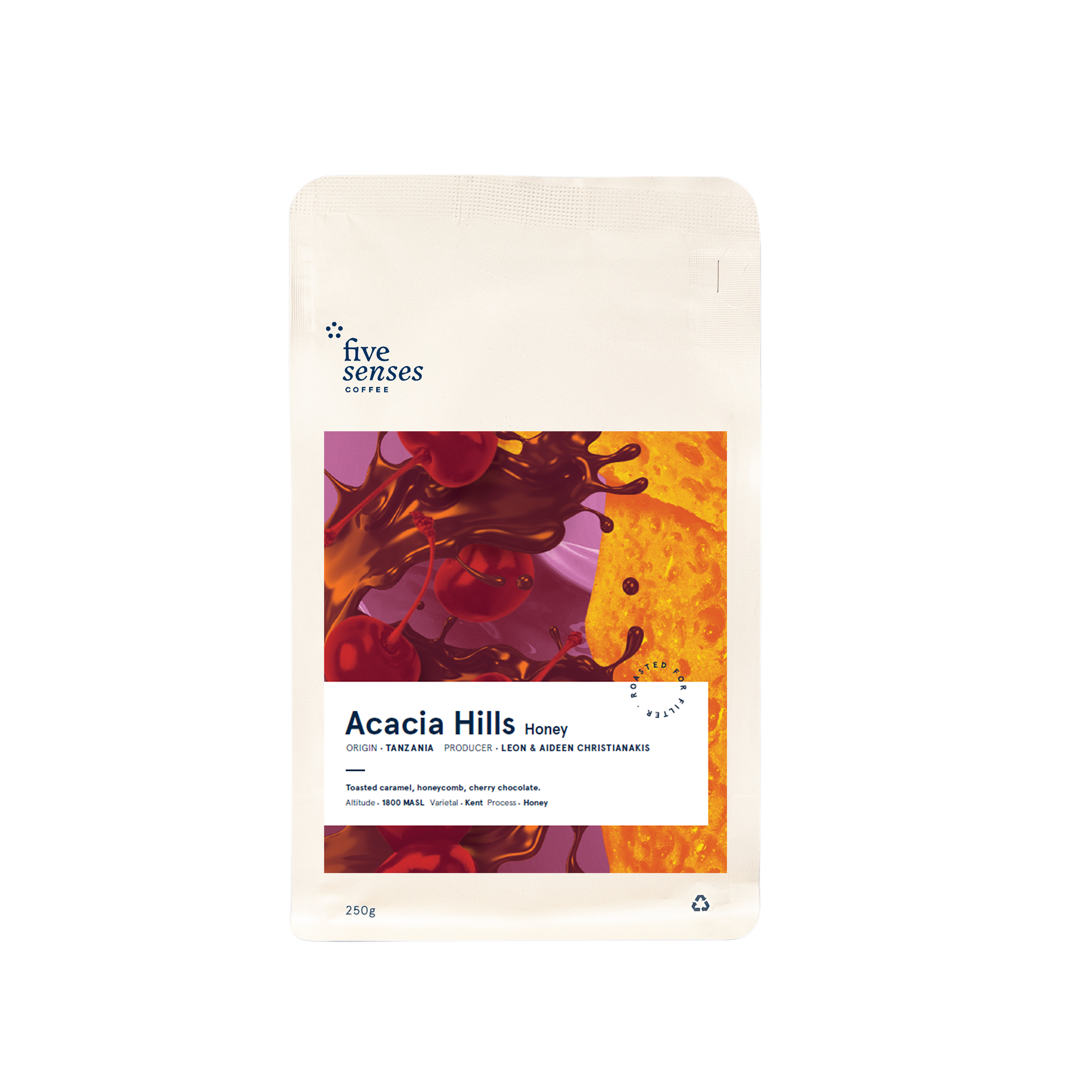 Cultivated on the slopes of the Ngorongoro Crater, this exquisite Acacia Hills Honey is crafted with meticulous care. At the heart of our enduring relationship with Acacia Hills lies the dedication and passion of Leon and Aideen for their community and craft. This ethos shared by its founders filters down to everyone they work with and the delicious coffees that result are a testament to the wonderful work they do. Constantly striving to produce the highest quality, this beautiful honey lot undergoes careful handling, including constant hand turning to prevent any moisture build-up during its 14-16 day drying and fermentation process. The Acacia Hills team cultivates this variety on the plantation's higher plateaus, where the slower growth process enhances flavour development. Indulge in a delicious palette of toasted caramel, honeycomb and cherry chocolate.
Close to the birthplace of Gesha, our fruitful relationship with Acacia Hills continues to bear delicious fruit. The dramatic landscape on the slopes of the Ngorongoro Crater and the surrounding microclimate has resulted in a unique expression of the Gesha varietal. Tanzania is renowned for its vast wilderness, famous landscapes and stunning coffees boasting elegant acidity. Coupling the natural terroir Tanzania offers with a mature Gesha varietal yields a unique and unmistakable flavour profile of pure elegance. Rigorous hard work, diligence and the leadership of Leon & Aideen Christianakis have resulted in this beautiful multi-dimensional coffee. Expect a light fruity exchange you've come to expect from other Acacia Hills varieties and experience the perfect medley of creamy peach, makrut lime and fragrant jasmine.