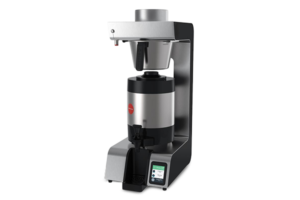 Marco Jet 6 Brewer
The ultimate in Batch Brewing, providing extensive brew controls and a friendly interface on this plumbed-in system.
The Jet 6 is the mothership of Batch Brewing, with a maximum capacity of 6L of brewed coffee per batch. Brewing control is the major advantage of this fully plumbed brewing unit, with the ability to dial brew recipes for different batch sizes, including the ability to select a brew temperature to take advantage of the displacement boiler inside which has superior temperature stability over the smaller flash brew systems.
Touchscreen Interface: Barista sets recipes, with brewer then being easy to operate with minimal operator error.
Sleek design: Compact footprint with a sleek design means this brewer doesn't need to be hidden out of sight! Proudly display your batch brewing capabilities.
Can automatically control grinder slave.
Basket safety lock during brewing.
Precision water volume and temperature.
Built-in cup-well.
Best-in-class energy efficiency.
Versatile deployment (grinder, manual or pre-ground packs).
Hot water dispenser.
Power: 15 amp plug
Brewing Capacity: 6 Litres
Dimensions: 303mm W x 444mm D x 850mm H
Weight: 24kg
Five Senses provides a one year parts and labour warranty on all Marco products sold in Australia. So if you have any issues with your Marco Jet 6 Brewer during this period, please contact us via our contact page.
Keen to chat about Marco or see some gear in action? We'd love to hear from you!