BUY NOW
Acacia Hills, Peaberry
Orange chocolate & molasses with a winey-sweet acidity.
Grown in some of Africa's most famous landscapes, this coffee does the farm's rich 50-year history justice. These peaberries are carefully sorted on the slopes of a collapsed ancient volcano in the wilderness of Northern Tanzania. A naturally occurring mutation in around 4% of coffee cherries, results in a single 'peaberry' forming inside the cherry. Named after their distinct shape, peaberries are generally much smaller in size and more dense which can result in a brighter, more pronounced acidity. While we're big fans of the coffees grown at Acacia Hills, we're even bigger fans of the work Leon and Aideen have done to support producer peers in the region, alongside their social impact work with local communities. Expect flavours of orange chocolate & molasses with a winey-sweet acidity.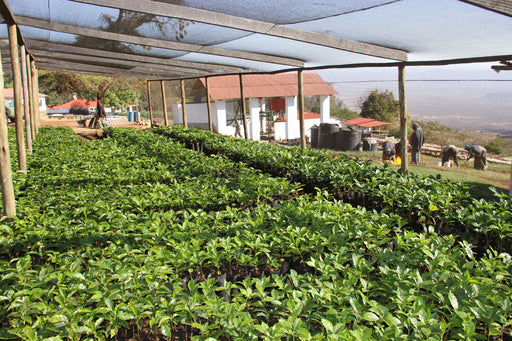 Deep Dive: Acacia Hills
This coffee estate in Tanzania is a partnership of growers and roasters. Owned by Mark Stell (Portland Roasting Company) and Leon & Aideen Christianakis (local Tanzanian coffee farmers), this relationship is a powerful combo that works to elevate coffee in the entire Ngorongoro region through a yearly cupping event.
LEARN MORE