Position:
national roasting manager
About:
The specialty coffee world is built on the duality of art and science and if there was ever an embodiment of this paradox at Five Senses, it'd be our awesome head roaster in Melbourne, Damo Steponavicius. Damien joined our team back in 2009 and, after years of experience turning out delicious batches on the roaster, now leads the roasting dept in VIC and uses his guru-level data wrangling skills to hone our roasting consistency nation-wide.
If you've ever seen him mid-summer in the blazing hot roastery, hauling sacks of green beans, kitted out in shorts and a tank top, you'd be hard pressed to imagine Damien in his suit-and-tie corporate gig, selling hairdryers prior to Five Senses life. Tired of selling soul-less widgets while he finished his Masters of Literature, this wordsmith dived into the 'craft' (read: chaotic/subjective/manual) world of coffee. One of the most humble humans , Damien slowly but surely transitioned us away from a roasting order list made up of post it notes to a shiny, futuristic world of data analysis and world-class systematisation that enable us to ride the organic, ever shifting nature of coffee roasting!
Outside of the roastery, Damien lives life at two speeds. The chill family man, enjoyer of red wine, documentaries and dedicated home body is counterpointed by all-in, cultural European whirl winds, exposing his family to the people, traditions and landscapes of the globe. This passion for education, a great love for humanity, culture and the arts and above all family, is never far from the surface with Damien. While his humility often has him putting others first, it's certain that without this champ's poetic heart and data analyst brain, Five Senses wouldn't be what it is today!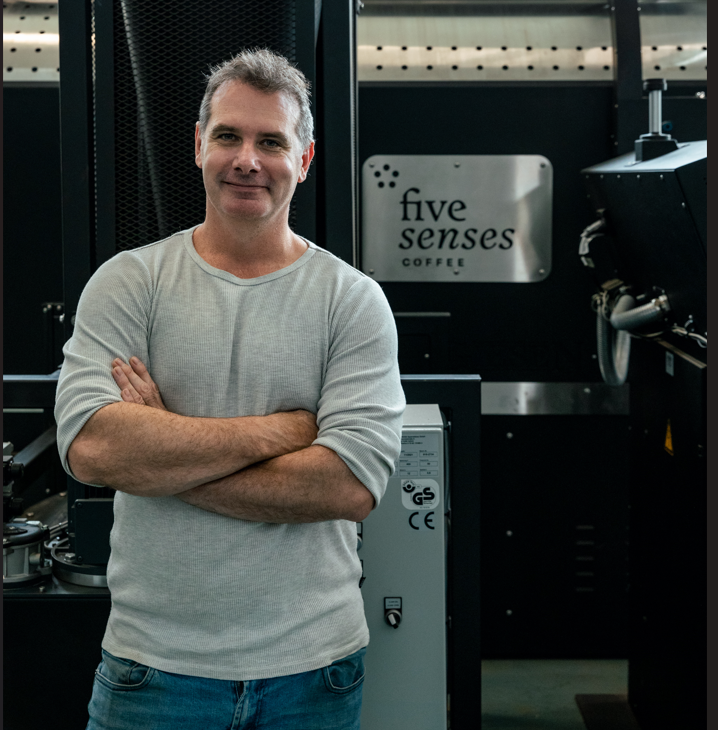 Be the first to know
Simply fill out your details to get the latest coffee news direct from us.