In 2018 we joined forces with some of our awesome café owners and our friends at Common Man Coffee Roasters to get behind Long Miles Coffee Project in a powerful project aiming to extend the Kibira Rainforest in North-western Burundi. To goal was to plant out new green belts from the existing rainforest, threading through exposed micro climates, stabilising the environment and in turn, future farmer livelihoods. Our first campaign raised an incredible $22,000 which has helped build some strong foundations: the establishment of new seedling nurseries, 60,000 indigenous trees propagated and the hiring a full time project manager. But this isn't a one-time project – the efforts continue into the second year of implementation.
A combination of intensive farming and erosion of critical top soil from the steep slopes has resulted in increasingly acidic and nutrient poor ground for food and coffee production. Pair this with rising local temperatures from climate change and you're looking at a pretty bleak future for the farmers of Burundi, some of the poorest in the world. Visiting Burundi a number of times, the people, their beautiful rolling hills – not to mention their delicious coffee! – have touched our hearts. Given our direct involvement in the coffee chain there, we wanted to support a path to a more sustainable livelihood.
Thanks to our supporters!
We can't make this impact on our own though. The great first steps mentioned above wouldn't have been possible without the combined efforts of a bunch of great folks. Thank you firstly to our generous cafes who participated in our fundraising day, donating their coffee takings – Howdy Coffee, Hush Specialty Coffee, Flo Espresso, Three Bags Full, Touchwood, Whistle & Flute, Drummer Boy, Regiment, West Juliett, Bunker Coffee. Much love! These funds were supported by a swag of much appreciated individual donations by passionate coffee drinkers through our Chuffed campaign and coffee promotions. Combined with a direct cash drop from Five Senses and our friends at Common Man Coffee Roasters, our fundraising has gone on to kick start this positive project.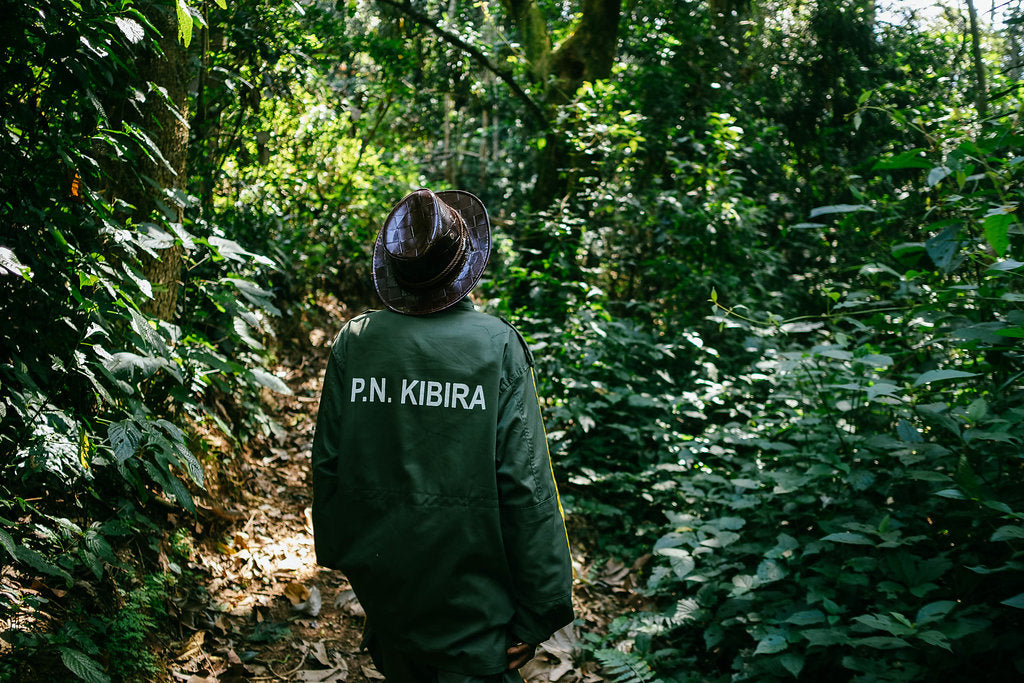 Every visitor to Kibira is hosted by a ranger. This is Ranger Deus.
So where to from here? Matt Gates, the Trees for Kibira programme director, details four key objectives:
Promote the cultivation of high quality, shade-grown coffee.
Work with farmers to plant nitrogen-fixing trees to build soil health.
Plant trees to reinforce gradual terraces, contour lines and other erosion-combatting earthworks.
Work with local farming communities to reforest degraded and vacant land around the Kibira Forest with native trees.
The establishment of the initial seedling nurseries and the planting of the first group of trees is a significant start. For phase 2, community outreach, education and farmer is engagement is a critical component to scaling the project. The plan is to replicate the proven model of 'Coffee Scouts' and develop 10 'Tree Scouts' – young locals who will act as grass roots community changers. These Tree Scouts would responsible for:
Leading agroforestry trainings for coffee farmers and other community members.
Organising the distribution of seedlings from the project's central nurseries.
Assisting community members with setting up their own tree nurseries.
Collaborating with local authorities on reforestation efforts.
Maintaining demonstration fields.
Administering surveys for the monitoring and evaluation of the project.
This project's a big one – it'll take year to have a significant effect at the ground level – but we're proud to have helped kick things off. We'll keep adding updates here and on social media so keep your eyes peeled as Kibira spreads!