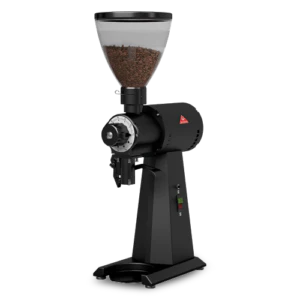 Mahlkönig EK43S
The all-new stumpy EK43S stands just 68 centimetres tall, which is substantially shorter than the 77-cm classic EK43.
For all of your on-demand grinding needs it's hard to look past the EK43S!
With its slimmer, 800-gram-capacity hopper, the EK43S aims to cut a more small-bar-appropriate profile than its towering bulk-oriented predecessor. An exceptionally robust grinder with high grinding capacity, suitable for different grinding coffee at different grind levels, from French Press to Espresso.
Power: 1300 watts
Burr Size: 98mm cast steel
Burr Speed: 1740 rpm (60 Hz)
Hopper Capacity: 0.8kg
Dimensions: 230mm W x 410mm D x 680mm H
Weight: 23kg
Five Senses provides a one year parts and labour warranty on all Mahlkönig products sold in Australia. So if you have any issues with your Mahlkönig grinder during this period, please contact us via our contact page.
We'd love to hear from you!