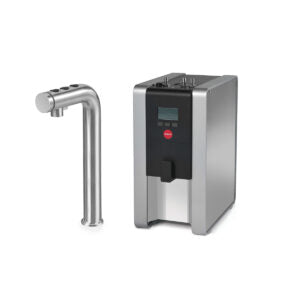 Marco Mix
Ultimate temperature adjustability and accurate programmable portion dispense – all with a sleek and minimal above counter font.
The Mix is the next generation of water dispensing systems that connects to a 3 litre under counter boiler (UC3).
The Mix boasts ultimate temperature adjustability, accurate programmable portion dispense all with a sleek and minimal above counter font. The Mix under counter boiler has ultimate versatility and can be connected to the Mix font, or as a multi-function system: SP9 Head and Mix Font.
We all know that bench space is limited and great customer interaction invaluable: Marco's under counter systems are designed with these realities in mind. Led by the new SP9 system (perfect for an Australian filter program!), the options range from the super precise, lab-like Uber Boiler to efficient, bulk volumes of hot H20 with the Uber Font/Ecosmart combo.
Power: 15 amp plug
Immediate Draw Off: 3 Litres
Output per hour: 28 Litres
Dimensions (font): 38mm W x 132mm D x 242mm H
Dimensions (UC3 unit): 210mm W x 385mm D x 440mm H
Weight: 11 kg
Five Senses provides a one year parts and labour warranty on all Marco products sold in Australia. So if you have any issues with your Marco Mix during this period, please contact us via our contactpage.
Keen to chat about Marco or see some gear in action? We'd love to hear from you!