Position:
Sales and account manager
About:
Say howdy to our resident all singing, all brewing Matthew Smithies of Adelaide. Matt flies the flag as our coffee specialist, Sales and Account Manager in south-central Aus - he might equally be spotted helping dial in espresso as gigging up the front of your local pub, skilfully evading the 5th request of Braithwaite classic, 'The Horses'. The front of the pub isn't the only stage Matt's been spotted on either - Western Region Cup Tasting champ, podium finisher in the nationals and a second time regionally, plus judging regional Barista Champs over 3 years. Despite all this performance time, we reckon those who know him would agree that Matt's one of the most down to earth, positive coffee folk around.
He may be 'of Adelaide' now, but in a previous life, this guy (born of the New Zealand persuasion) has covered an impressive amount of the globe as a floating pro musician, entertaining guests on cruise ships as they bobbed by the Caribbean, the Mediterranean, took a left turn around South America and some laps of the North. Eventually landing in Melbourne, he decided he needed to leave the itinerant cruise life behind with a blissful vision of a coffee day job synced into music and gigging filled nights.
After earning his barista stripes at numerous Melbourne CBD espresso bars, Matt made the deliberate move to Adelaide in pursuit of the tight-knit community he loves. Over the past 6 years, he hasn't been just observing from the side lines; instead collaborating with a fresh wave of SA coffee pros transitioning the scene from conversations about branded umbrellas and imported beans towards deliciousness.
As a new father, Matt's been keeping caffeinated at home any way he can; Kalita, espresso or CCD and has been digging the latest coffees coming out of East Africa. The rest of his time you'll likely see him on the road, zipping from one cafe to the next in support of his beloved community. We reckon we're pretty lucky to have this tops bloke part of our team!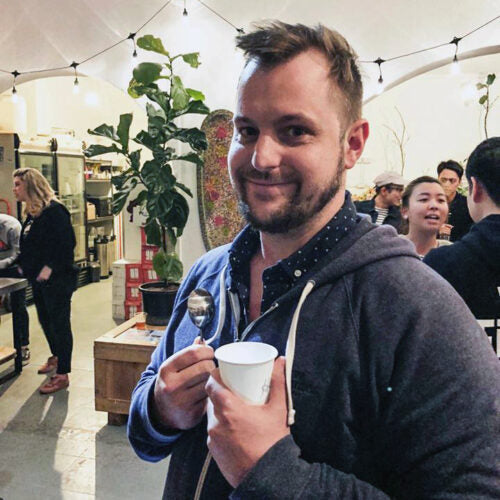 Be the first to know
Simply fill out your details to get the latest coffee news direct from us.